Through a friend, I discovered these really professional
Wildlife Hides
in Leicestershire. I spent 24 hours there on my first visit, and enjoyed it so much I immediately booked to go back again two weeks later, and again twice more since. 
I have also visited one of his
other hides
on a couple of different occasions.
The ducks were the first to turn up as we settled down to look out over the shallow pond. 
Next the heron made an appearance
The owl made a brief visit to the pond hide, but the subsequent visit to the
Wired Hide
saw him returning again and again. 
I was so excited to see the otter than I almost missed the shot!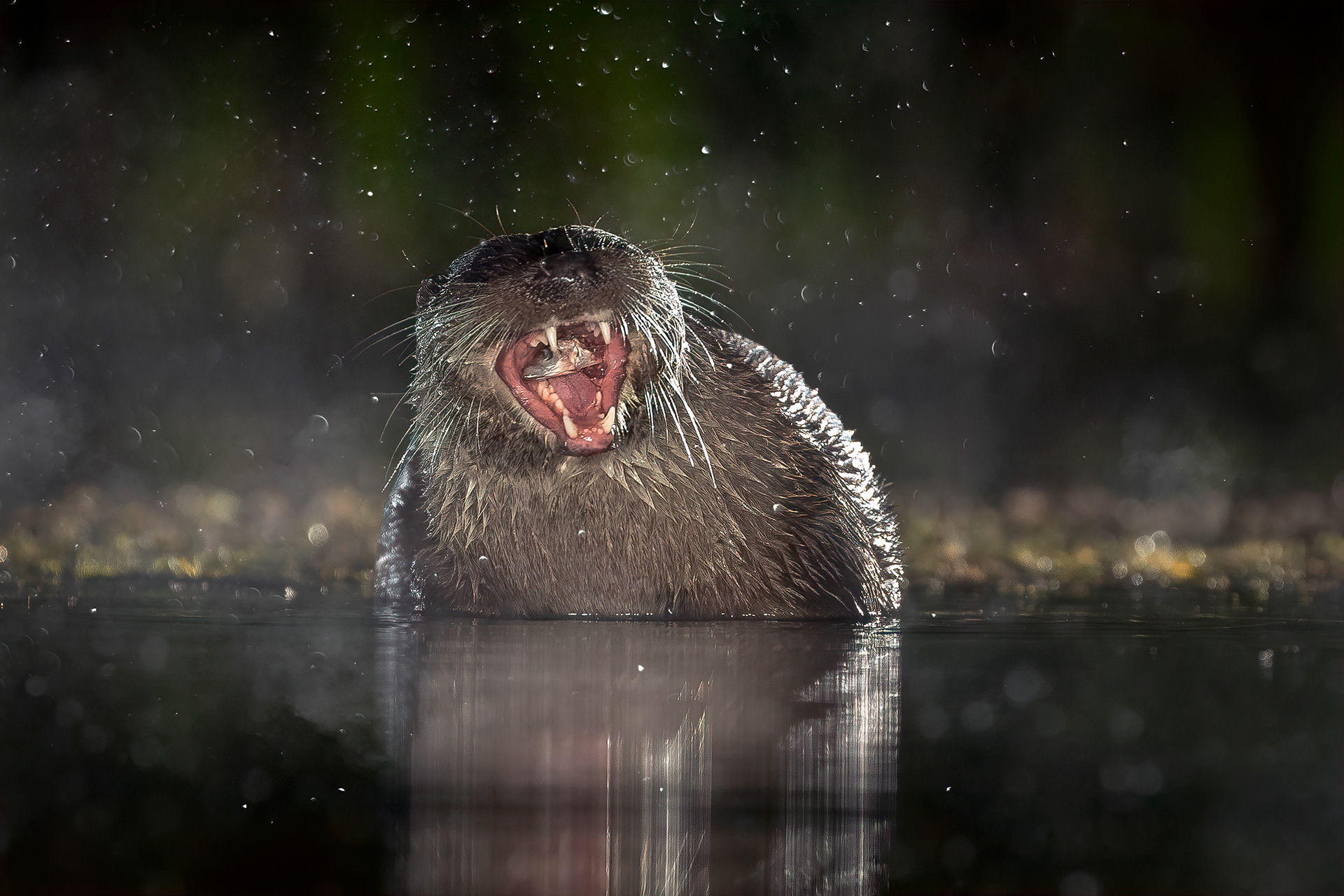 The ducks, owl, herons and otter kept us amused for the remainder of the night. 
The next morning, the kingfishers were the main stars of the show., with the first one arriving just after 7 o'clock. 
They dived, preened, and ate for the next couple of hours, allowing me plenty of opportunity to capture their antics. 
Here's a Time-Stack I created from numerous photos of the kingfisher diving.
I also made a Time-Lapse video from the same photos.
I returned to the Pond Hide in December 2021, and although the activity was slow to start off with (I spent nearly five hours staring at a kingfisher-less stick), the afternoon saw a few visits from the star of the show. 
The first bird to arrive was a grey wagtail. A lot of the time he was too near the camera to focus, spending time foraging right up against the hide. 
Then the heron made a brief appearance
For a while, a family of moorhen ruled the pond.
The sun came out very briefly, turning the reeds and their reflection to liquid gold. 
After five hours of staring at a kingfisher-less stick, a lone female turned up, dived straight away, and left. According to Tom,  this is a 'stranger', not part of the usual pair that visit, hence why she was in and out like that: this is not her patch. 
From then on, the kingfishers - including the resident pair - came and went all afternoon. 
It was quite a dark and dismal day, so it was a trade-off between fast shutter speeds and high ISO or slower shutter speeds and lower ISO. I experimented with both. 
We also had a very brief visit from a buzzard, who landed in the field, sat there for a minute or two, then flew off again. 
January 2022
Like last month, the weather did not cooperate much on this visit, but stayed grey and dull for the duration. Despite this, I came away with some pleasing images. 
They were slow to arrive, just like last time, but by the end of the day, we'd had 13 visits with over 40 dives.